Middle Finger Baby Emoticon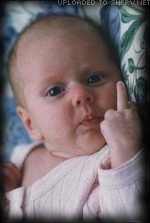 This is a funny picture of a baby. It is making an obscene hand gesture by sticking its middle finger up in the air.
Emoticons like Middle Finger Baby:
Details for middle finger baby
Suggested shortcut: ;middle
Tags: infant, obscene, middle finger, hand gesture, child, baby, rude, funny
Filename: middle-finger-baby-smiley-emoticon.png
The Middle Finger Baby emoticon is Static
Middle Finger Baby icon file size: 48.93 kB (50100)
Added on 07 February, 2014
Last commented on 30 June, 2018
Emoticon category: Rude Emoticons
It's a PNG image measuring 150 by 223 pixels and is a true color icon (full colors), it also supports a transparent background.
Related Pages:
Show frame details
| frame | size | time | colors |
| --- | --- | --- | --- |
| 1 | 150x223 | 0 | 24433 |
Showing all 1 frames.
Codes for Middle Finger Baby
To use the Middle Finger Baby icon on forums, profiles, MySpace, etc use the following codes:
For more free Rude finger icons emoticons like the middle finger baby icon, visit the Middle Finger Emoticons pack. We have the best smileys for facebook, Skype and Yahoo.