Infant smilies and emoticons
These are the infant emoticons we have. We found 2 results. All of our infant smileys are free to download.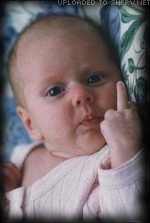 This is a funny picture of a baby.
Added on 07 February, 2014
Filename: middle-finger-baby-smiley-emoticon.png
File size: 50100 bytes
Rated 3.23 from 33 votes
1 frames measuring 150 x 223 pixels

The image is of a baby seated next to a blue teddy bear.
Added on 07 February, 2014
Filename: cute-baby-smiley-emoticon.gif
File size: 17621 bytes
Rated 4.58 from 6 votes
10 frames measuring 78 x 47 pixels