Obscene animated emoticon
These are the obscene emoticons we have. We found 3 results. All of our obscene smileys are free to download.

Seeing this hand gesture smiley face made my day!
Added on 04 August, 2012
Filename: bird-finger-smiley-emoticon.gif
File size: 5631 bytes
Rated 4.35 from 30 votes
8 frames measuring 39 x 28 pixels

This is an animated image of clouds rolling by.
Added on 06 February, 2014
Filename: middle-finger-cloud-smiley-emoticon.gif
File size: 87888 bytes
Rated 3.68 from 11 votes
25 frames measuring 100 x 100 pixels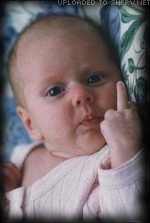 This is a funny picture of a baby.
Added on 07 February, 2014
Filename: middle-finger-baby-smiley-emoticon.png
File size: 50100 bytes
Rated 3.23 from 33 votes
1 frames measuring 150 x 223 pixels