CE/DP Stealer
CE/DP Stealer is a program that lets you steal Emoticons, Display Pictures & more from your contacts on Windows Live Messenger and MSN Messenger!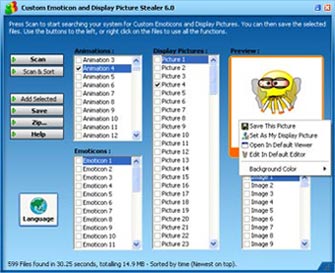 Download CE/DP Stealer to start robbing your Messenger contacts!
CE/DP Stealer lets you view and save your friend's Display Pictures and Emoticons. With it you can save Emoticons/Smileys and Display Pictures that any of your contacts may have used in chats with you! It has an easy to use interface and is packed with lots of features to make your Messenger experience much more entertaining and fun filled!
Features
Fast install, easy to use
Works with all versions of Messenger
Steal Display Pictures, Emoticons and Animations - with built-in preview
Easily save found files, add them to Messenger or Zip them
Multilingual - 11 languages supported
Messenger version compatibility
CE/DP Stealer is compatible with all versions of Messenger:
Windows Live Messenger 8 (8.0, 8.1)
MSN Messenger 7 and 7.5
MSN Messenger 6.x
Multi-lingual support
CE/DP Stealer supports the following 11 languages:
English, Dutch, French, Arabic, Thai, Turkish, Spanish Italian, Swedish, Portuguese and German.
For certain languages (Arabic, Thai and Turkish in particular), your computer will need to be configured to view that particular language. For further instructions, read the guide to Enabling International support for Windows XP. Windows 2000 users see here.
Add your language!
Want to add your language to the next version of CE/DP Stealer? Simply get in touch with us and request your language!
Using the Stealer
CE/DP Stealer (sometimes referred to as a custom emoticon and display picture crawler or ripper for MSN Live) is a software to view and save your buddies Emoticons and Display Pictures. Once installed, you can use the program to scan for Icons and Avatars that you are then able to save, or add to your own Messenger account. The found items are categorized by type (animations, emoticons, display pics, etc) and a built-in preview system is included. Detailed help and instructions are included within the software from the Help menu.
Sometimes you might get branded as a bit of a thief for robbing your contacts pictures with the MSN custom picture and emotion crawler, but it might be the only way to get the pictures that aren't shared, or maybe just a little payback for when your pictures get stolen!
Screenshots
CE/DP Stealer main window (English)
---
© 2003-2007 www.sherv.net