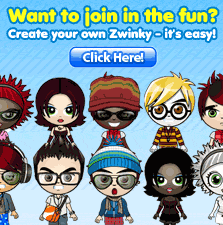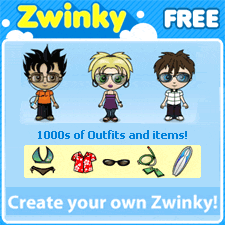 Create A Zwinky!
What is a Zwinky?
A Zwinky is a customizable online character that can be used to chat with other Zwinky users, or as an avatar on message boards, blogs, profile pages, etc. Once you create your 3D avatar, you can also play games, dress-up, attend events, chat and meet other people in the community.
Create A Zwinky
Want to create a Zwinky of your very own? Then just check out our Create a Zwinky page to get your Free Zwinky!
Want to know more about Zwinky? the check out our brand new Zwinky FAQ page.
Zwinky is completely free to download!
It's quick to download Zwinky and easy to create!
Chatting with your Zwinky is in a safe environment (Zwinktopia)
Huge wardrobes to dress your Zwinkys
Brand new Sexy Zwinkies now available (Hottie Zwinky)
Our full featured Zwinky page is coming really soon! In the meantime, follow the link above to create and download your Free Zwinky! Once you have created a Zwinky, you can even find other Zwinkies to chat with and add to your friends list. You can create as many Zwinkies as you like, so go ahead and make your Zwinkie from above (you will be able to access the Zwinky maker).