MSN Display Pictures: MSN Icon and Display Picture maker: create Icons, Avatars, MSN Dollz & pics!
Posted on Monday, August 14 @ 06:55:34 UTC
Have you ever wanted to create your very own totally customized MSN Icons and Avatars? Introducing Zwinkys, a brand new website that allows you to create your own custom characters and lots more!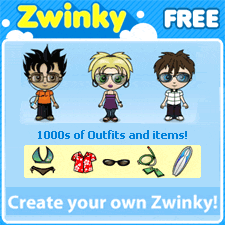 You can create your own characters and make them come to life by selecting all of their features (like eyes, hair, nose, etc) and then choosing from loads of clothes and accessories. You can also choose your avatar's background, including some animated ones.
Once done with the avatar maker, you could import your new avatar into MSN Messenger or Live Messenger as your Display Picture. Just click the banner above to instantly start making your own MSN Icons and Avatars!



You can make icons that are like some of the MSN Dollz some people use on MSN Messenger, but even better! These MSN Avatars also continue the MSN Dollz craze by allowing you to add a lot more accessories and logos. The creator is also innovative and can be easily used right from your browser (like most other Doll makers).
On top of all that, you can even use the created Zwinky Avatars on your website and blogs, like MySpace or Live Spaces. You can also setup your very own profile page on the Zwinky website, see who else is online, create a group of friends, join one of the many available chatroom or make your own private chatroom.
Just click on the blue banner above to create your own MSN Display Pictures and Avatars! You can also check out our other MSN Display Picture makers here. You can learn more about Zwinkies from our Zwinky Page. If you would like to jump right in and create your own zwinky, you can read the guide on creating a Zwinky! You can then go ahead and dress up zwinky with wardrobe to match your style.
Do you prefer 'original' style MSN Dollz? Then just check out our MSN Dollz page and grab some MSN Dollies or use our original Dollz Maker!