MSN Display Pictures: Love MSN Display Pictures - Love Display Pics for MSN Messenger
Posted on Wednesday, January 19 @ 06:29:02 UTC
The Love Display Pictures collection for MSN Messenger is a compilation of cheery, love related display pics. The perfect download for adding that special effect to your romance! Here is a preview of the Love MSN Display Pictures: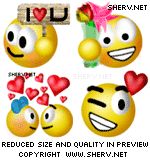 + Download Love Display Pictures for MSN Messenger
Compatible with MSN 7 and 6 and also with MSN Messenger 8.0. You can get more Love MSN Icons and lots of Free Animated Emoticons from the Animated Emoticons zone!
If you are looking for more customizations other than MSN Display Pics, we also have Love MSN Nick Names and romantic Love MSN Quotes, just head over to this Love Names page to customize your MSN Name!