EZ Emoticons for MSN Messenger 6 and 7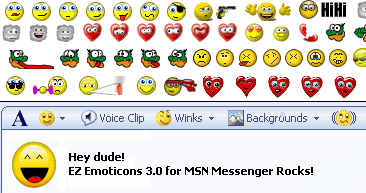 EZ Emoticons, the popular MSN Messenger Emoticon add-on that allows you to use hundreds and hundreds of emoticons without remembering shortcuts, is now back and better than ever before! Version 3.0 now completely supports MSN Messenger 7 and MSN 7.5, including Animated Emoticon Preview and Large emoticons and much more!
EZ Emoticons, as the name suggests, is easy to use. You simply press Control + Spacebar on your keyboard while in an MSN Messenger conversation which will bring up a window with all your emoticons, and then click on the emoticons you wish to use and they will be automatically inserted into your message! This means you can use as many emoticons as you like without remembering a single shortcut!
You can find a download link and some screenshot below.
Features
Easy way to use all your emoticons
Works with both MSN Messenger 6 and 7
One simple shortcut for displaying the emoticon popup window
Easy 'Point and Click' interface for using your emoticons - No need for individual emoticon shortcuts
User-friendly interface
Small file with effortless installation
New In version 3.0
Limit of 300 emoticons removed - now supports unlimited emoticons!
Emoticon list now previews animated emoticons!
Improvements to the Emoticon List popup such as tooltips, scrollbar and more.
Pressing CTRL+Space while the Emoticon List is open closes the list
Improved Installation and Uninstallation routines
Removed Graphics Device Interface dependencies on Windows 2000
Improved positioning of Emoticon List, AutoStartup, Minimizing/Maximizing and saving of email address.
Download EZ Emoticons for MSN Messenger


Less than a minute to download on a 56K connection.
Screenshots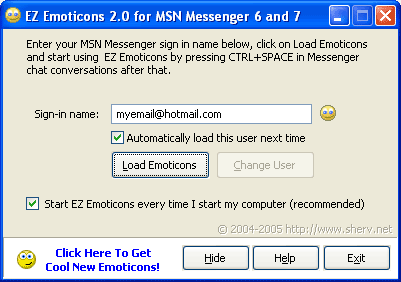 Want to know what EZ Emoticons looks like in action?

Click here to view a full size screenshot
Older versions details
New In version 2.0
- Thursday, 14 April 2005
Full MSN Messenger 7 compatibility (Including animated and large emoticons)
Close button added to dismiss the emoticon popup
Built in control for automatic startup with Microsoft Windows
Improved and more consistent GUI
Improved Installation and Uninstallation routines
Built in help information
+ Click here to view a larger screenshot of EZ Emoticosn 1.0 (Older version)