MSN Emoticons: Love MSN Display Pictures, MSN Smileys, Emoticons & Backgrounds
Posted on Thursday, April 22 @ 14:27:57 UTC
A huge new MSN pack has been released! The Love MSN Pack is, as the name suggests, all about love! This awesome, completely free pack includes over 300 MSN Display Pictures, Emoticons and MSN Smileys for you to use.
Included in the pack are 140 cool love emoticons, 150 love MSN display pictures and 10 chat backgrounds and contact list backgrounds! You can download this big pack below!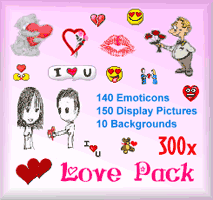 + Love MSN Pack - Emoticons, MSN Display Pictures & Backgrounds
So download this gigantic Love pack with hundreds of Love emoticons and love display pictures now, have some fun, and show the loved ones in your life how you feel about them!
Re: Love Emoticons, Display Pictures & Backgrounds (Score: 0)
by Anonymous on Friday, July 02 @ 01:59:19 UTC
i love u
from Jack
Re: Love Emoticons, Display Pictures & Backgrounds by Anonymous on Saturday, August 21 @ 03:50:21 UTC

Re: Love Emoticons, Display Pictures & Backgrounds by Anonymous on Friday, September 10 @ 13:35:47 UTC


Re: Love Emoticons, Display Pictures & Backgrounds by Anonymous on Tuesday, November 23 @ 00:02:10 UTC