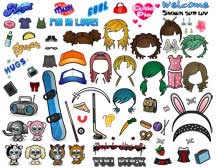 So you want to Dress up your Zwinky? All free Zwinkies have access to a HUGE wardrobe (some of which you can see to the left).
Dressing your own Zwinky
You can dress your created Zwinkies with lots of different clothing, accessories and other wardrobe items such as animals, glitter text, and more!
The Zwinky wardrobe is huge, and dressing it up is easy! You can dress your Zwinkys according to your mood, or what you're really wearing. You can also change your Zwinky layout by customizing the location, weather, etc. Lots of Zwinky backgrounds are available.
One of the great things about re-dressing your Zwinkies is that no matter how many places you use your Zwinky avatar (MySpace, blogs, etc), once you change your wardrobe, they will all be instantly updated with your newly dressed Zwinky!
What are you waiting for? Create yourself a Zwinky and dress it up to look like yourself! Zwinkys wardrobe is huge, so you wont have any problem finding the right clothes to dress up zwinky with.