Hidden Skype Emoticons
Skype, just like other chat clients, provides a set of hidden emoticons that are quite useful. There are currently 15 hidden smileys/emoticons in Skype.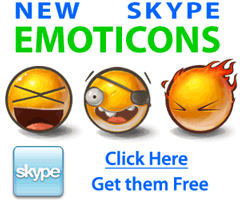 These are the secret emoticons that are not in the Skype menu, type them directly in the chat box to use them:
| Emoticon | Code | Notes |
| --- | --- | --- |
| | (mooning) | Mooning emoticon, perfect... |
| | (finger) | Middle finger emoticon, a very rude emoticon to express yourself. |
| | (swear) | Swearing smiley, his words are just too rude to show! |
| | (rock) | Rocking smiley, making a hand gesture and enjoying his music. |
| | (smoking) | Smoking emoticon, this hidden smiley is one bad dude! |
| | (drunk) | Drunk emoticon, this Skype smiley's had a bit too much to drink |
| | (poolparty) | Pool party emoticon, this guy just can't wait to jump in! |
| | (toivo) | A guy and his dog, not sure what this emoticon is about, but Toivo was a Skype engineer. |
| | (bandit) | Masked bandit emoticon, quite unique. Good for when some stealth is required. |
| | (headbang) | Angry smiley banging his head against a wall, we've all felt this way sometime. |
| | (fubar) | FUBAR emoticon, for times when things just won't work. |
| | (tmi) | Too Much Information (TMI) emoticon, good for when you've heard more than enough! |
| | (bug) | Bug emoticon, a black |
| | (heidy) | Squirrel emoticon, a cute little critter and his nut. Heidi is a Skype staff member. |
| | (myspace) | MySpace emoticon, new in Skype 3.6 to commemorate the Skype-MySpace partnership! |
To make sure these emoticons work correctly, make sure you and your contacts are using the latest version of Skype.
Hidden Flag Emoticons
Skype also includes about 237 flag emoticons, representing the different national flags of just about every country and nation.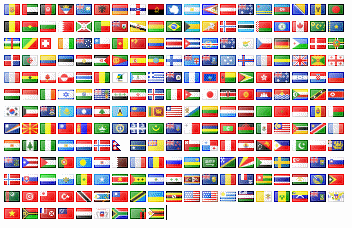 To use these hidden flags, you need to type the following code:
(flag:XX)
Where XX should be replaced with the code of the country whose flag you want to display. For example, (flag:us) will display an American flag, (flag:ca) a Canadian flag and so on. We will be listing the full set of country codes shortly.
Other Hidden Emoticons
Also check out the hidden emoticons available in MSN and Yahoo Messenger, if you use them.
More about the Skype emoticons
In contrast to other clients, most of the emoticons hidden in Skype have a slightly more adult theme (rude, smoking, drinking, etc). Almost all of the emoticons are animated and sized around 25x25. They are of fairly good quality, in a pixel style similar to the Yahoo Emoticons.
Comparing Skype to other Messengers, not including the flag icons, Skype's hidden emoticons are better than those featured in MSN/Live Messenger. That being said, Yahoo's secret emoticon set is still the best one around when it comes to emoticons that they chose to hide.
You can also use these hidden icons in your Skype emoticon art. You can also find cool emoticon art on our site, we will be adding them shortly.
We hope that Skype continues to add even more emoticons and smileys to their popular client, we will be keeping this page updated with the latest secret emoticon codes. To send us any updates or suggestions, use the online contact form.