Yoga Lotus Position Emoticon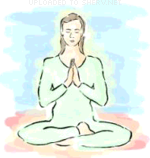 Check it out... what we have here is our recent lotus smiley! Light baby blue, buff yellow and light gray are the major colors that can be seen throughout this graphic.
Emoticons like Yoga Lotus Position:
Details for yoga lotus position
Suggested shortcut: ;yoga
Tags: position, lotus, yoga, new age, zen
Filename: yoga-lotus-position-smiley-emoticon.png
The Yoga Lotus Position emoticon is Static
Yoga Lotus Position icon file size: 24.89 kB (25491)
Added on 12 February, 2014
Last commented on 18 April, 2016
Emoticon category: Religion and Spirituality emoticons
It's a PNG image measuring 150 by 158 pixels and is a true color icon (full colors), it also supports a transparent background.
Related Pages:
Show frame details
| frame | size | time | colors |
| --- | --- | --- | --- |
| 1 | 150x158 | 0 | 6142 |
Showing all 1 frames.
Codes for Yoga Lotus Position
To use the Yoga Lotus Position icon on forums, profiles, MySpace, etc use the following codes:
For more free N/A emoticons like the yoga lotus position icon, visit the Spiritual emoticons pack. We have the best smileys for facebook, Skype and Yahoo.