Raisins Troll Emoticon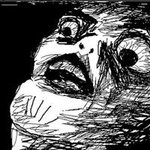 This rage comics meme emoticon is called "Raisin" due to its association with the first related meme which was about a memes comic character mistaking the raisins for the chocolate chips in the cookies on display. After he realizes his mistake, he becomes fully enraged and shouts "Raisins!" This troll meme emoticon is also know as "Oh Crap" or "OMG" Rage face as well. it is used to express rage and astonishment.
Emoticons like Raisins Troll:
Details for raisins troll
Suggested shortcut: ;troll
Tags: raisins, troll, black and white, oh crap, omg troll, omg rage, inglip
Filename: raisins-troll-smiley-emoticon.jpg
The Raisins Troll emoticon is Static
Raisins Troll icon file size: 10.71 kB (10966)
Added on 03 November, 2012
Emoticon category: Meme emoticons
It's a JPG image measuring 150 by 150 pixels and is a true color icon (full colors).
Related Pages:
Show frame details
| frame | size | time | colors |
| --- | --- | --- | --- |
| 1 | 150x150 | 0 | 256 |
Showing all 1 frames.
Codes for Raisins Troll
To use the Raisins Troll icon on forums, profiles, MySpace, etc use the following codes:
For more free Troll emoticons like the raisins troll icon, visit the Troll emoticons pack. We have the best smileys for facebook, Skype and Yahoo.