Free raisins emoticon
These are the raisins emoticons we have. We found 2 results. All of our raisins smileys are free to download.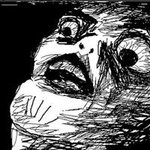 This rage comics meme emoticon is called "Raisin" due to its association with the first related meme which was about a memes comic character mistaking the raisins for the chocolate chips in the...
Added on 03 November, 2012
Filename: raisins-troll-smiley-emoticon.jpg
File size: 10966 bytes
Rated 3.80 from 10 votes
1 frames measuring 150 x 150 pixels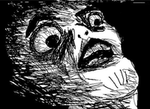 This meme emoticon also known as "Raisins" and "OMG" is among many rage meme characters which are used on the online forums and communities to create and share with others their real life...
Added on 08 November, 2012
Filename: oh-crap-rage-smiley-emoticon.png
File size: 70368 bytes
1 frames measuring 150 x 109 pixels