Omg troll animated emoticon
These are the omg troll emoticons we have. We found 1 result. All of our omg troll smileys are free to download.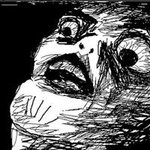 This rage comics meme emoticon is called "Raisin" due to its association with the first related meme which was about a memes comic character mistaking the raisins for the chocolate chips in the...
Added on 03 November, 2012
Filename: raisins-troll-smiley-emoticon.jpg
File size: 10966 bytes
Rated 3.80 from 10 votes
1 frames measuring 150 x 150 pixels