Cheek to cheek Lovers Emoticon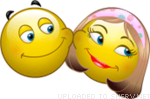 Did you ever want a graphic for lovers?!? this snuggle smiley face here is totally crazy!! Orange yellow, sunflower yellow, dark cream, creme and puce are the major colors that appear throughout the smiley.
Emoticons like Cheek to cheek Lovers:
Details for cheek to cheek lovers
Suggested shortcut: ;cheek
Tags: snuggle, cuddling, lovers, hugging, valentine's day, love
Filename: cheek-to-cheek-lovers-smiley-emoticon.png
The Cheek to cheek Lovers emoticon is Static
Cheek to cheek Lovers icon file size: 22.56 kB (23100)
Added on 11 February, 2014
Emoticon category: Love Emoticons and Smileys
It's a PNG image measuring 150 by 99 pixels and is a true color icon (full colors), it also supports a transparent background.
Related Pages:
Show frame details
| frame | size | time | colors |
| --- | --- | --- | --- |
| 1 | 150x99 | 0 | 6144 |
Showing all 1 frames.
Codes for Cheek to cheek Lovers
To use the Cheek to cheek Lovers icon on forums, profiles, MySpace, etc use the following codes:
For more free Valentine Smileys emoticons like the cheek to cheek lovers icon, visit the Valentine Emoticons pack. We have the best smileys for facebook, Skype and Yahoo.