Red Glitter Apple Emoticon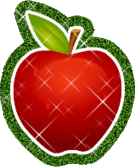 Almost everyone enjoys an awesome food or fruit smiley face! It contains a a really short animation. Dark sage, auburn, rust red, spice and sand stone are the main visual colors that can be seen in the graphic. Hey you! Provide us some feedback by writing a comment! We truly enjoy it a lot and hope that you will as well. Do you like it? Leave a rating and let us know!
Emoticons like Red Glitter Apple:
Details for red glitter apple
Suggested shortcut: ;glitter
Tags: Glitter, apple, food, fruits
Filename: red-glitter-apple-smiley-emoticon.gif
The Red Glitter Apple emoticon is Animated
Red Glitter Apple icon file size: 27.49 kB (28150)
Added on 19 July, 2012
Last commented on 16 June, 2018
Emoticon category: Food emoticons
'Red Glitter Apple' is animated in 2 frames, the animation is 0.2 seconds long and loops continously. It's a GIF animation measuring 135 by 167 pixels and has 256 colors, it also supports a transparent background.
Related Pages:
Show frame details
| frame | size | time | colors |
| --- | --- | --- | --- |
| 1 | 135x167 | 0.1 | 256 |
| 2 | 135x167 | 0.1 | 256 |
Showing all 2 frames.
Codes for Red Glitter Apple
To use the Red Glitter Apple icon on forums, profiles, MySpace, etc use the following codes:
For more free Food emoticons like the red glitter apple icon, visit the Eating smileys pack. We have the best smileys for facebook, Skype and Yahoo.