Glitter Cupcake with Cherry Emoticon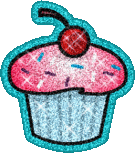 How funky is this birthday smiley face??? The main colors contained in the clipart are dark aqua, ice blue, lavender pink, black and watermelon. It is made using a really short motion sequence. Don't forget to vote for this cherry smiley, so that we'll know your opinion of it. Can we have your opinion about the icon? If yes, please make your comment in the form below.
Emoticons like Glitter Cupcake with Cherry:
Details for glitter cupcake with cherry
Suggested shortcut: ;glitter
Tags: birthday, Glitter, cupcake, cherry, food, eating, cake
Filename: glitter-cupcake-with-cherry-smiley-emoticon.gif
The Glitter Cupcake with Cherry emoticon is Animated
Glitter Cupcake with Cherry icon file size: 45.46 kB (46556)
Added on 19 July, 2012
Last commented on 22 June, 2021
Emoticon category: Food emoticons
'Glitter Cupcake with Cherry' is animated in 3 frames, the animation is 0.3 seconds long and loops continously. It's a GIF animation measuring 135 by 153 pixels and has 256 colors, it also supports a transparent background.
Related Pages:
Show frame details
| frame | size | time | colors |
| --- | --- | --- | --- |
| 1 | 135x153 | 0 | 256 |
| 2 | 134x152 | 0 | 256 |
| 3 | 135x153 | 0 | 256 |
Showing all 3 frames.
Codes for Glitter Cupcake with Cherry
To use the Glitter Cupcake with Cherry icon on forums, profiles, MySpace, etc use the following codes:
For more free Food emoticons like the glitter cupcake with cherry icon, visit the Eating smileys pack. We have the best smileys for facebook, Skype and Yahoo.