Birthday Celebration Emoticon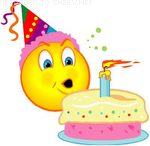 Image implies a birthday party. An individual is trying hard to blow the lit candle on the cake. The individual is directing all his breath toward the lit candle to put it off as it is melting.
Emoticons like Birthday Celebration:
Details for birthday celebration
Suggested shortcut: ;birthday
Tags: lit, blow out, trying, candle, blow, cake, party, birthday
Filename: birthday-celebration-smiley-emoticon.png
The Birthday Celebration emoticon is Static
Birthday Celebration icon file size: 25.15 kB (25756)
Added on 05 February, 2014
Last commented on 24 August, 2022
Emoticon category: Holiday Emoticons
It's a PNG image measuring 150 by 146 pixels and is a true color icon (full colors), it also supports a transparent background.
Related Pages:
Show frame details
| frame | size | time | colors |
| --- | --- | --- | --- |
| 1 | 150x146 | 0 | 8584 |
Showing all 1 frames.
Codes for Birthday Celebration
To use the Birthday Celebration icon on forums, profiles, MySpace, etc use the following codes:
For more free Happy Birthday Smileys emoticons like the birthday celebration icon, visit the Birthday Emoticons pack. We have the best smileys for facebook, Skype and Yahoo.