Troll Dad Dance Emoticon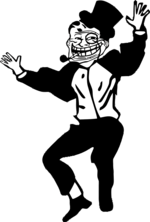 The TollDad dancing and jumping meme emoticon is used in many different scenarios when he trolls his children. Troll dad is jumping in the air and dancing. for the love of all that is holy, stop it you! cruel dad! your kids are in tears man!!
Emoticons like Troll Dad Dance:
Details for troll dad dance
Suggested shortcut: ;troll
Tags: trolldad, dance, jump, memes, rage faces, dancing troll, troll
Filename: troll-dad-dance-smiley-emoticon.png
The Troll Dad Dance emoticon is Static
Troll Dad Dance icon file size: 20.76 kB (21255)
Added on 08 November, 2012
Emoticon category: Meme emoticons
It's a PNG image measuring 150 by 222 pixels and is a true color icon (full colors), it also supports a transparent background.
Related Pages:
Show frame details
| frame | size | time | colors |
| --- | --- | --- | --- |
| 1 | 150x222 | 0 | 2206 |
Showing all 1 frames.
Codes for Troll Dad Dance
To use the Troll Dad Dance icon on forums, profiles, MySpace, etc use the following codes:
For more free Rage emoticons like the troll dad dance icon, visit the Rage Emoticons pack. We have the best smileys for facebook, Skype and Yahoo.