Okay Guy Troll Emoticon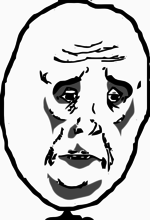 This is a larger image of the "Okay Guy" or "OK face" from the "Rage Comic" faces and troll memes series. If you don't know this character well, he is the one who reluctantly agrees with whatever is suggested to him.
Emoticons like Okay Guy Troll:
Details for okay guy troll
Suggested shortcut: ;troll
Tags: troll, okay troll, ok meme
Filename: okay-guy-troll-smiley-emoticon.png
The Okay Guy Troll emoticon is Static
Okay Guy Troll icon file size: 8.88 kB (9095)
Added on 08 November, 2012
Last commented on 25 August, 2013
Emoticon category: Meme emoticons
It's a PNG image measuring 150 by 220 pixels and has 256 colors.
Related Pages:
Show frame details
| frame | size | time | colors |
| --- | --- | --- | --- |
| 1 | 150x220 | 0 | 183 |
Showing all 1 frames.
Codes for Okay Guy Troll
To use the Okay Guy Troll icon on forums, profiles, MySpace, etc use the following codes:
For more free Troll emoticons like the okay guy troll icon, visit the Troll emoticons pack. We have the best smileys for facebook, Skype and Yahoo.