Rainbowdash As Troll Face Emoticon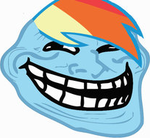 This is a funny emoticon of Rainbow dash Troll face from MLP "MY little Pony" TV cartoon series. It all started when the MLP show was trolled on the internet forums which even increased the viewing of the show by curious web users who wanted to watch and evaluate the show by themselves.
Emoticons like Rainbowdash As Troll Face:
Details for rainbowdash as troll face
Suggested shortcut: ;troll
Tags: troll face, troll, mlp, my little pony, rainbow dash
Filename: rainbowdash-as-troll-face-smiley-emoticon.png
The Rainbowdash As Troll Face emoticon is Static
Rainbowdash As Troll Face icon file size: 32.77 kB (33561)
Added on 08 November, 2012
Emoticon category: Meme emoticons
It's a PNG image measuring 150 by 138 pixels and is a true color icon (full colors), it also supports a transparent background.
Related Pages:
Show frame details
| frame | size | time | colors |
| --- | --- | --- | --- |
| 1 | 150x138 | 0 | 8251 |
Showing all 1 frames.
Codes for Rainbowdash As Troll Face
To use the Rainbowdash As Troll Face icon on forums, profiles, MySpace, etc use the following codes:
For more free Troll emoticons like the rainbowdash as troll face icon, visit the Troll emoticons pack. We have the best smileys for facebook, Skype and Yahoo.