Stickman Rope Swing Emoticon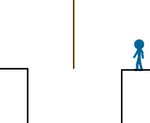 Are you looking for ways to show your swinging skills? The hilarious smiley face is perfect for your conversations. It is made of a very detailed motion sequence.
Emoticons like Stickman Rope Swing:
Details for stickman rope swing
Suggested shortcut: ;stickman
Tags: stickman, rope, swing, funny
Filename: stickman-rope-swing-smiley-emoticon.gif
The Stickman Rope Swing emoticon is Animated
Stickman Rope Swing icon file size: 270.32 kB (276804)
Added on 04 December, 2012
Emoticon category: Funny Emoticons
'Stickman Rope Swing' is animated in 163 frames, the animation is 1.65 seconds long and loops continously. It's a GIF animation measuring 150 by 123 pixels and has 127 colors.
Related Pages:
Show frame details
Codes for Stickman Rope Swing
To use the Stickman Rope Swing icon on forums, profiles, MySpace, etc use the following codes:
For more free Funny Emoticon collection emoticons like the stickman rope swing icon, visit the Funny Emoticons set pack. We have the best smileys for facebook, Skype and Yahoo.