Rage Quit Table Flip Emoticon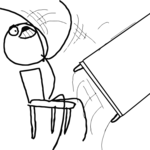 The image you see above is about the act of flipping tables which is usually associated with the anger and rage typically displayed by men.
Emoticons like Rage Quit Table Flip:
Details for rage quit table flip
Suggested shortcut: ;rage
Tags: desk flip, memes, table flip, flipping tables, rage faces
Filename: rage-quit-table-flip-smiley-emoticon.png
The Rage Quit Table Flip emoticon is Static
Rage Quit Table Flip icon file size: 16.33 kB (16727)
Added on 08 November, 2012
Last commented on 17 May, 2015
Emoticon category: Meme emoticons
It's a PNG image measuring 150 by 150 pixels and is a true color icon (full colors), it also supports a transparent background.
Related Pages:
Show frame details
| frame | size | time | colors |
| --- | --- | --- | --- |
| 1 | 150x150 | 0 | 4441 |
Showing all 1 frames.
Codes for Rage Quit Table Flip
To use the Rage Quit Table Flip icon on forums, profiles, MySpace, etc use the following codes:
For more free Rage emoticons like the rage quit table flip icon, visit the Rage Emoticons pack. We have the best smileys for facebook, Skype and Yahoo.