Fighter Jet Emoticon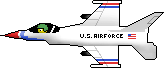 This is a white US Air Force jet being piloted by a smiley. He is a brave soldier who is ready to fly this big fighter jet to protect his country.
Emoticons like Fighter Jet:
Details for fighter jet
Suggested shortcut: ;jet
Tags: army, military, airplane
Filename: fighter-jet.gif
The Fighter Jet emoticon is Static
Fighter Jet icon file size: 3.08 kB (3152)
Added on 12 August, 2011
Last commented on 28 March, 2015
Emoticon category: Violent Emoticons
It's a GIF image measuring 164 by 68 pixels and has 226 colors, it also supports a transparent background.
Show frame details
| frame | size | time | colors |
| --- | --- | --- | --- |
| 1 | 164x68 | 0 | 226 |
Showing all 1 frames.
Codes for Fighter Jet
To use the Fighter Jet icon on forums, profiles, MySpace, etc use the following codes:
For more free Military smileys emoticons like the fighter jet icon, visit the Army and War emoticons pack. We have the best smileys for facebook, Skype and Yahoo.