Injured Hockey Player Emoticon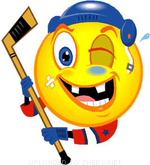 The image is of an injured ice hockey player. The player has a small bandage on his face and is missing some teeth on his upper jaw. "Aye mate, wanna play some hockey?"
Emoticons like Injured Hockey Player:
Details for injured hockey player
Suggested shortcut: ;injured
Tags: broken teeth, helmet, gloves, injured, mouth, wink, hockey, sports
Filename: injured-hockey-player-smiley-emoticon.png
The Injured Hockey Player emoticon is Static
Injured Hockey Player icon file size: 34.96 kB (35798)
Added on 05 February, 2014
Emoticon category: Sports Emoticons
It's a PNG image measuring 150 by 165 pixels and is a true color icon (full colors), it also supports a transparent background.
Related Pages:
Show frame details
| frame | size | time | colors |
| --- | --- | --- | --- |
| 1 | 150x165 | 0 | 11262 |
Showing all 1 frames.
Codes for Injured Hockey Player
To use the Injured Hockey Player icon on forums, profiles, MySpace, etc use the following codes:
For more free Hockey smiley faces and clip art emoticons like the injured hockey player icon, visit the Hockey Emoticons pack. We have the best smileys for facebook, Skype and Yahoo.