Fuck Yeah Close Enough Emoticon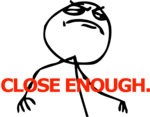 A variant of "Fuck Yeah" rage face, this meme emoticon is an indication that the outcome of a given situation is not highly satisfactory but still acceptable or close enough to be considered a success.
Emoticons like Fuck Yeah Close Enough:
Details for fuck yeah close enough
Suggested shortcut: ;close
Tags: fuck yeah, close enough, memes
Filename: fuck-yeah-close-enough-smiley-emoticon.png
The Fuck Yeah Close Enough emoticon is Static
Fuck Yeah Close Enough icon file size: 11.90 kB (12181)
Added on 03 November, 2012
Emoticon category: Meme emoticons
It's a PNG image measuring 150 by 117 pixels and is a true color icon (full colors), it also supports a transparent background.
Related Pages:
Show frame details
| frame | size | time | colors |
| --- | --- | --- | --- |
| 1 | 150x117 | 0 | 987 |
Showing all 1 frames.
Codes for Fuck Yeah Close Enough
To use the Fuck Yeah Close Enough icon on forums, profiles, MySpace, etc use the following codes:
For more free Meme emoticons emoticons like the fuck yeah close enough icon, visit the Meme emoticons pack. We have the best smileys for facebook, Skype and Yahoo.