Waving Penguin Emoticon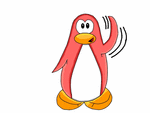 If you really love pink penguin, and want to write something hilarious for your contacts, insert this waving smiley face. Some colors which you can see in the penguins icon include salmon, amber, scarlet tred, nude and silver grey.
Emoticons like Waving Penguin:
Details for waving penguin
Suggested shortcut: ;waving
Tags: waving, animals, penguins, pink penguin, birds
Filename: waving-penguin-smiley-emoticon.gif
The Waving Penguin emoticon is Animated
Waving Penguin icon file size: 8.01 kB (8201)
Added on 29 November, 2012
Emoticon category: Animal emoticons and smileys
'Waving Penguin' is animated in 2 frames, the animation is 0.22 seconds long and loops continously. It's a GIF animation measuring 150 by 113 pixels and has 252 colors.
Related Pages:
Show frame details
| frame | size | time | colors |
| --- | --- | --- | --- |
| 1 | 78x101 | 0.11 | 252 |
| 2 | 86x102 | 0.11 | 232 |
Showing all 2 frames.
Codes for Waving Penguin
To use the Waving Penguin icon on forums, profiles, MySpace, etc use the following codes:
For more free Penguin Smileys emoticons like the waving penguin icon, visit the Penguin emoticons pack. We have the best smileys for facebook, Skype and Yahoo.