Vista Style emoticons
Check out this complementary set of Vista Style Emoticon icons and smileys from our good friends over at Icons Land!
There are 9 emoticons in the Vista Style emoticons pack.
Icons Land emoticons

Icons Land is a provider of ready to use Windows icons, for interface designer and application developers. They have a whole range of stylish and ready made stock icons available to enhance your interfaces and programs.
They've been kind enough to let us port some of their icons over for use on MSN Messenger and Windows Live Messenger. The emoticons on this page are taken from their Vista Style Emoticons and Avatars collection, providing a sample of what's available in the full collection of smileys. These smileys have been carefully crafted to create a matching set of smooth and shiny emoticons.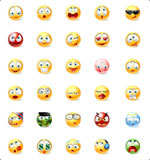 They're not animated as they've been designed for use an Windows Icons (.ICO files). There are a total of 30 emoticons and smileys in this icon set, but you are also able to purchase them on an individual basis on their website. All of these icons conform to the Microsoft User Experience Guidelines for both Windows XP and Vista.
These icons come in all the different standard sizes: 16x16, 24x24, 32x32, 48x48, 64x64, 128x128, 256x256. The folks at Icons Land can also convert them to other sizes and formats for free if you require them. The icons are available in TrueColor as well as 32 bit files (with alpha channel transparency).
Visit the Icon Land website to view all of their high quality icons and content, they've got hundreds upon hundreds of icons waiting for you. You can also contact them for quotes, make requests for custom designs and get more information about their products and services.