Tough Glitter Dog Emoticon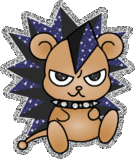 Insert zest to your conversations with this angry smiley. It is made with a fairly short motion sequence. Darktan, black, battleship grey, cellar black and pewter are the principal visual colors that appear within the icon.
Emoticons like Tough Glitter Dog:
Details for tough glitter dog
Suggested shortcut: ;glitter
Tags: angry, Glitter, animals, dog, dogs
Filename: tough-glitter-dog-smiley-emoticon.gif
The Tough Glitter Dog emoticon is Animated
Tough Glitter Dog icon file size: 27.20 kB (27849)
Added on 26 July, 2012
Emoticon category: Animal emoticons and smileys
'Tough Glitter Dog' is animated in 2 frames, the animation is 0.2 seconds long and loops continously. It's a GIF animation measuring 135 by 159 pixels and has 255 colors, it also supports a transparent background.
Related Pages:
Show frame details
| frame | size | time | colors |
| --- | --- | --- | --- |
| 1 | 135x159 | 0.1 | 255 |
| 2 | 135x159 | 0.1 | 251 |
Showing all 2 frames.
Codes for Tough Glitter Dog
To use the Tough Glitter Dog icon on forums, profiles, MySpace, etc use the following codes:
For more free Dog smileys emoticons like the tough glitter dog icon, visit the Dog emoticons pack. We have the best smileys for facebook, Skype and Yahoo.