Surprised Mother Of God Emoticon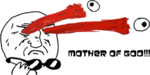 The nature of Mother of God meme emoticon guy could be both positive and negative. He can be fond of what he is staring at or to the contrary he might not be approving of it. In the Meme emoticon, the level of his astonishment is without measure! His eyes have popped out of their sockets!
Emoticons like Surprised Mother Of God:
Details for surprised mother of god
Suggested shortcut: ;mother
Tags: surprised, memes, mother of god, shocked, eyes popped out, rage faces
Filename: surprised-mother-of-god-smiley-emoticon.png
The Surprised Mother Of God emoticon is Static
Surprised Mother Of God icon file size: 31.85 kB (32615)
Added on 08 November, 2012
Last commented on 14 October, 2015
Emoticon category: Meme emoticons
It's a PNG image measuring 150 by 75 pixels and is a true color icon (full colors), it also supports a transparent background.
Related Pages:
Show frame details
| frame | size | time | colors |
| --- | --- | --- | --- |
| 1 | 150x75 | 0 | 4363 |
Showing all 1 frames.
Codes for Surprised Mother Of God
To use the Surprised Mother Of God icon on forums, profiles, MySpace, etc use the following codes:
For more free Rage emoticons like the surprised mother of god icon, visit the Rage Emoticons pack. We have the best smileys for facebook, Skype and Yahoo.