Be quiet Emoticon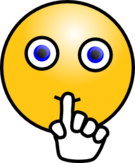 Did you ever want a graphic of shoosh, shush or gesturing?! the hand gesture smiley face here is truly brand new. It has been made with a really short animation. Some colors which visible in this hand gestures graphic include golden yellow, jet black and cream.
Emoticons like Be quiet:
Details for be quiet
Suggested shortcut: ;quiet
Tags: shoosh, shush, hand gestures, quiet
Filename: be-quiet-smiley-emoticon.png
The Be quiet emoticon is Static
Be quiet icon file size: 17.16 kB (17573)
Added on 11 October, 2012
Emoticon category: Express yourself emoticons
It's a PNG image measuring 135 by 163 pixels and is a true color icon (full colors), it also supports a transparent background.
Related Pages:
Show frame details
| frame | size | time | colors |
| --- | --- | --- | --- |
| 1 | 135x163 | 0 | 2035 |
Showing all 1 frames.
Codes for Be quiet
To use the Be quiet icon on forums, profiles, MySpace, etc use the following codes:
For more free Han emoticons like the be quiet icon, visit the Hand gesture emoticons pack. We have the best smileys for facebook, Skype and Yahoo.