Good Morning dogs Emoticon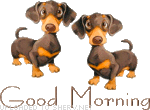 This image is of two dogs that seem to be dachshunds. The caption under them says "Good Morning" and they are wagging their tails as if they are happy.
Emoticons like Good Morning dogs:
Details for good morning dogs
Suggested shortcut: ;dogs
Tags: dachshunds, tails, pets, wagging, good morning, dogs, happy, animals
Filename: good-morning-dogs-smiley-emoticon.gif
The Good Morning dogs emoticon is Animated
Good Morning dogs icon file size: 15.89 kB (16267)
Added on 06 February, 2014
Last commented on 04 December, 2017
Emoticon category: Animal emoticons and smileys
'Good Morning dogs' is animated in 2 frames, the animation is 0.2 seconds long and loops continously. It's a GIF animation measuring 150 by 110 pixels and has 238 colors, it also supports a transparent background.
Related Pages:
Show frame details
| frame | size | time | colors |
| --- | --- | --- | --- |
| 1 | 150x110 | 0.1 | 238 |
| 2 | 150x110 | 0.1 | 242 |
Showing all 2 frames.
Codes for Good Morning dogs
To use the Good Morning dogs icon on forums, profiles, MySpace, etc use the following codes:
For more free Dog smileys emoticons like the good morning dogs icon, visit the Dog emoticons pack. We have the best smileys for facebook, Skype and Yahoo.