Fap Fap Fap Meme Emoticon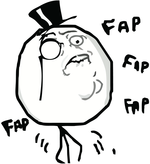 "Fap Meme" emoticon is taken from a word in Japanese Manga to hint the sound of masturbation of the Manga character! it was popularized as an internet slang since year 2003 has been used by many web comics.
Emoticons like Fap Fap Fap Meme:
Details for fap fap fap meme
Suggested shortcut: ;fap
Tags: fap, gentleman, memes
Filename: fap-fap-fap-meme-smiley-emoticon.png
The Fap Fap Fap Meme emoticon is Static
Fap Fap Fap Meme icon file size: 18.72 kB (19165)
Added on 03 November, 2012
Emoticon category: Meme emoticons
It's a PNG image measuring 150 by 164 pixels and is a true color icon (full colors), it also supports a transparent background.
Related Pages:
Show frame details
| frame | size | time | colors |
| --- | --- | --- | --- |
| 1 | 150x164 | 0 | 1593 |
Showing all 1 frames.
Codes for Fap Fap Fap Meme
To use the Fap Fap Fap Meme icon on forums, profiles, MySpace, etc use the following codes:
For more free Meme emoticons emoticons like the fap fap fap meme icon, visit the Meme emoticons pack. We have the best smileys for facebook, Skype and Yahoo.