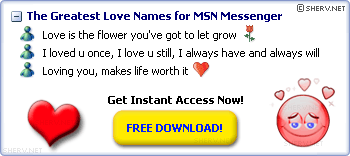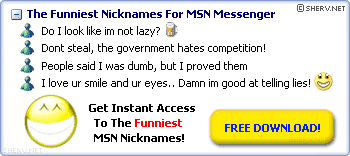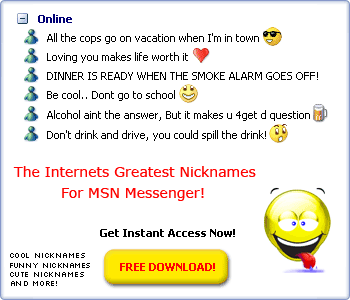 Funny MSN Names
This is the third Funny nicknames collection, the MSN names in this collection have been submitted by users. If you have some names for MSN Messenger that you would like to submit to our collection, you can do so HERE. Browse the funny MSN names!
Funny MSN Messenger Names
You may be only young once, but you can be immature forever!
I couldn't fix your brakes, so I made your horn louder!
Hate: A special kind of love given to people who suck
(8)roll roll roll ur joint, gently down the line, take a toke, inhale dat smoke, and blow ur friggin mind!(8)
Damn right I'm good in bed i can sleep for hours!
Now that I have a gun...u may run or hide :P
Knowledge Is Knowing That A Tomato Is A Fruit, Wisdom Is Not Putting It In A Fruit Salad.
God made elfs God made deers God made u such a queer
Im not crazy, ask mr bunny and mrs dodo here
If u want breakfast in bed, sleep in the kitchen
In jail u get food, in jail u get tea, in jail u get anything butt... the KEY!
I have a picture of u, I think its very nice, I put it under my bed... 2 scare away the mice!
I tought u were crazy, now i c ur nuts!
DINNER IS READY WHEN THE SMOKE ALARM GOES OFF!
Life's a game. FISHING IS SERIOUS!
Be kool.. Dont go to school :D
Silence is Golden.. But Shouting IS fun!
It Worries Me How Dumb You Are
Roll roll roll your joint, twist down the end, take a puff thats enough, pass it to a friend!
I hope life isn't a joke, because I don't get it!
Go To Page :
More MSN Messenger Names
If you liked these msn names, be sure to check out our other collections, simply visit the main MSN Names. There you will be able to find more fun stuff like nick name tricks and more!
© 2003-2007 Sherv.NET MSN Names
You may not reuse, reproduce or redistribute this content in any shape, way or form without obtaining our prior written consent.