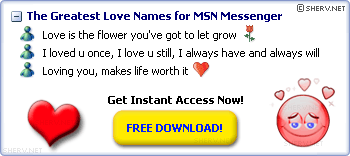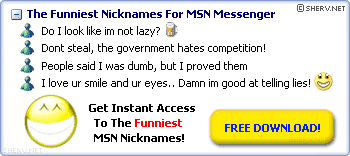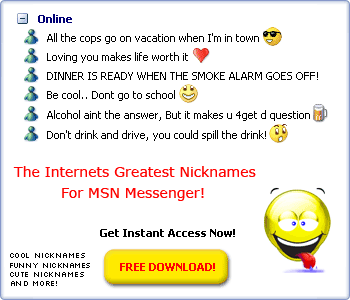 Cute MSN Names
Browse to find Cute MSN Nicknames, MSN Icons and Cute MSN Quotes!
Welcome to the cute msn names category where you can get all the cute msn nicknames, cute msn screen names and quotes to use in your MSN Messenger! This is the category to browse if you like your MSN names nice and cute.
View our Guide to MSN Names if you need some help and don't forget to Submit your cute names to our database of cute MSN quotes! Enough talk, find yourself a cute name for MSN Messenger further down the page!
Cute MSN Nick Names
I'm like a butterfly.. pretty to see, hard to catch
Laugh and the world laughs with you. Cry and you cry with your girlfriends.
Life is 4 living, Love is for giving!
The earth laughs in flowers.
Love is like a quicksand, the deeper you fall in, the harder it is to get out!
Love is like a baseball game 3 strikes and ur... OUT!
To be cute or not... that is the question!
Cute MSN Quotes
The best blush to use is laughter: It put roses in your cheeks and in your soul.
I wish I was a teddy bear siting on your bed so when u went 2 cuddle it u cuddled me instead!
a million words wud not bring u back, I know 'cause I've tried - but neither would a million tears... I know 'cause I've cried
God made the land god, made the sea, he needed a pricess and so he made me!
A true friend will act on the feelings of her friends, not hers.
When tears flow in your eyes... Always remember two things: I'm here and I care
I'd like a diamond, I'd like some gold, I'd like a pearl, Because I'm daddy's little girl :)
A memory lasts forever, never does it die. True friends stay together and never say goodbye!
Friends Never say goodbye, they say hello!!
It takes a minute to like someone, an hour to love someone, but a lifetime to forget someone
I love you more then yeterday, and less then tomorrow
Cutie Superstar
Love comes and goes but friends stay forever!
Some more cute names are being added to this category in the near future, so check back for more, and you can submit your own cute Messenger names below.
More MSN Names
If you liked these cute msn names, be sure to check out our other collections of free MSN Names, simply visit the MSN Names section where you can find lots more cool names and ever cooler tricks!
Cute MSN Icons and MSN Display Pictures
Need some cute MSN Icons or Cute MSN Display Pictures? Then check out these CUTE downloads for MSN Messenger:
If you need more cute MSN Icons or Cute MSN Display Pics and Cute Avatars, have a look at these sections of our site:
MSN Messenger
downloads coming soon!
© 2003-2007 Sherv.NET MSN Names
You may not reuse, reproduce or redistribute this content in any shape, way or form without obtaining our prior written consent.