Downloads: The Nudge Madness is back: Nudge Mania 4.0 for Messenger, send unlimited nudges!
Posted on Saturday, February 24 @ 06:19:50 UTC
Get ready to experience the Nudge Madness with the brand new NudgeMania 4.0!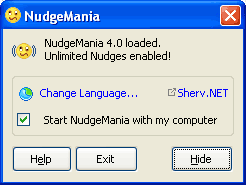 Send unlimited Nudges in MSN & Live Messenger!
Learn what's new in Nudge Mania 4.0!
What's new in NudgeMania 4.0?
This time around, we've made NudgeMania available in 5 languages: English, French, Spanish, Turkish and Portuguese (Brasil)!
Sending of unlimited Nudges works on all version of MSN and Live Messenger with the Nudge feature, including the recently released Messenger 8.1.
To get the latest info about NudgeMania, you can always visit the main NudgeMania page. As of this version, help for the program is also made available online in the NudgeMania help page.
Just like previous versions, Nudge Mania does not hack/patch/modify your Messenger in order to let you send unlimited Nudges. You wont need to run any hacks, patches or scripts, just install NudgeMania and you can always send unlimited Nudges! With the nudge limit removed, try not to bomb your contacts with too many Nudges, causing them to go mad and blocking you (or maybe they'll disable receiving Nudges, or start a Nudge war!).
Enjoy the Nudge Madness with NudgeMania 4.0!