Downloads: Nudge Mania v3.0 - MSN Nudge Hack, Nudge Flood for MSN/Live Messenger
Posted on Friday, October 13 @ 10:45:18 UTC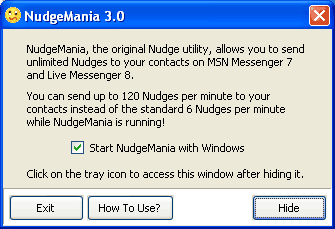 Version 3.0 of the extremely popular NudgeMania for Messenger program has been released!
For those of you not familiar with it, NudgeMania is a tool that allows sending of unlimited Messenger Nudges. The so called MSN Nudge Hack can be used to send your contacts a Nudge Flood which they can't avoid (unless they have disabled Nudges).
+ Download NudgeMania 3.0 for MSN Messenger 7 & Live Messenger 8
Remember, NudgeMania works with all versions of Messenger that support the Nudge feature. This means it will work with MSN Messenger 7.0, 7.5, Windows Live Messenger 8.0 and even 8.1!
NudgeMania can allow you to send up to 120 nudges per second (which is 2 nudges every second). You will generally see the 'You have just sent a nudge.' confirmation, but Messenger may sometimes tell you 'You may not send a nudge that often.'. If this happens, you can just keep Nudging your contacts, after the message.
With the new integration between Live Messenger and Yahoo Messenger, you can now send your Yahoo contacts a Buzz (the Yahoo equivalent of a Nudge). Nudge Mania can also send unlimited Buzzes to your Yahoo buddies, if you're chatting with them.
So you'll be able to nudge 12x above the Messenger limit, but don't get yourself blocked!
This tool is NOT a patch, and will not modify MSN/Live Messenger.