MSN Names: Funny MSN Names - The Funniest MSN Messenger Nicknames!
Posted on Saturday, March 12 @ 01:25:05 UTC
Are you looking for Funny MSN Names? You can now download a set of the funniest nicknames for easy use in MSN Messenger!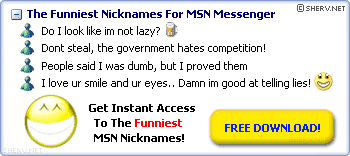 You can also browse lots of funny names in the Funny MSN Messenger Names.