MSN Names: MSN Weirdmaker! Make weird MSN writing, Letters and Names with the weirdmaker
Posted on Monday, January 29 @ 12:15:12 UTC
After many requests, we've finally added a Weirdmaker to the website. Go create some weird MSN writing and letters with the Weirdmaker!
If you aren't very familiar with weirdmakers, read the full post about the MSN Weirdmaker.
MSN Weirdmaker
A Weirdmaker is a tool used to create text and letters written in a very strange and weird way. You may seen this in contact nicknames on Messenger or other types of profiles (and probably thought How can I get such cool writing for my MSN Names?). There are several different types of weirdmakers available, and each one will turn the text into a different style of letters (cool, funky, weird, funny, etc writings).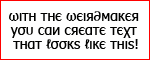 Take a look at the image to the left for an example of one of the weirdmaker text styles. The MSN Weirdmaker is most commonly used to create cool and funky MSN Nicknames and personal messages. You do not need to enter individual ALT key codes into MSN/Live Messenger for each letter of your name. The weird maker works for both MSN Messenger and Live Messenger.
We're also working on a brand new set of Cool MSN writing letters for our WeirdMaker 2.0, so check back shortly for the update. Have fun creating lots of weird writing with the WeirdMaker!