MSN Names: 3 new Weirdmakers added! Weird MSN writing and funky letters for MSN Names
Posted on Saturday, February 10 @ 17:46:32 UTC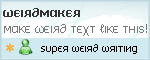 The Weirdmaker has been updated with 3 new weirdmaker writing styles! Go ahead and play with the WeirdMaker!
Weird Writing for MSN
It's official, weird writing for MSN has become quite popular! For one thing, its pretty much the only way to 'change' the font of your MSN Screen Name, and lets face it, those weird writings and letters look pretty darn cool!
Our weirdmaker now has 6 different weird writing styles, and we'll be adding more cool and funky letter styles every week.
Weird MSN Screen Names
You can also run one of our many MSN Nicknames through the weirdmaker to try and make it a but funkier (or weirder). The writing from the weirdmaker is not only for your MSN names, you can also put it in your personal message.
The Weirdmaker works for MSN Messenger and Windows Live Messenger.