Downloads: NudgeMania 2.0 For MSN Messenger 7 & 7.5 - Send Unlimited MSN Nudges!
Posted on Wednesday, April 13 @ 22:06:25 UTC
NudgeMania, the original Nudge utility allows you to send unlimited MSN Nudges to your contacts in MSN Messenger 7 (Including MSN 7.0 and MSN 7.5). This new version adds some features and is compatible with all of the MSN Messenger 7 BETA releases and the Final release. The first version of this MSN Nudge Sender tool was released for the MSN Messenger 7.0 BETA on October 2, 2004. This version of NudgeMania also works with MSN Messenger 8.0!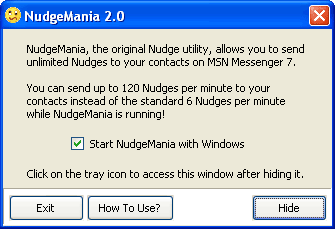 Click Here to Download NudgeMania 2.0
+ Click Here to Download NudgeMania 2.0 for MSN Messenger 7 & 8
This program is also referred to as an MSN Nudge Flooder, Nudge Bomber for MSN or a Nudge Bomb.
Although most of the MSN Nudge tricks have now been patched up in MSN Messenger, NudgeMania can still send unlimited nudges without the need for an unlimited Nudge patch or an MSN Nudge unblocker. To avoid losing friends and being blocked, Nudge MSN Messenger contacts with care!
Nudge Mania can also bypass the nudge limit on MSN 8.0 without needing to use any sort of nudge patch which could disable use of some features in Windows Live Messenger (wizz illimite for french users).