MSN Emoticons: Valentine's Day Love Emoticons for MSN Messenger Special
Posted on Saturday, February 05 @ 04:36:57 UTC
This is the valentine's day special on love emoticons for msn messenger 7 and 6! These are emoticon packs that you can download and use in your chats:
This is a new set of emoticons for MSN Messeger 6 and 7. The Mega Love collection contains 60 Love Emoticons for MSN Messenger, perfect for Valentine's Day which will be upon us in a short while.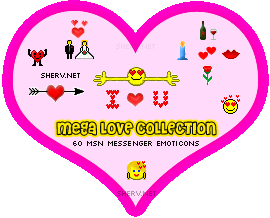 Valentine's Day MSN Emoticons - A superb pack of Valentine Emoticons for MSN Messenger that can be used to fill all of your chat conversations with care and love!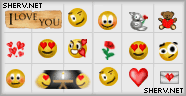 + Download Valentine's Day Emoticons for MSN Messenger
Here is a new Love Emoticon font for MSN Messenger 7 and 6. You can use these emoticons shaped as letters to write messages in custom emoticons!