NudgeMania help
Send unlimited with NudgeMania!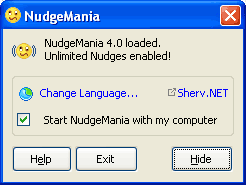 This is the NudgeMania help page. The latest version of NudgeMania is 4.0, you can download it from below.
What is NudgeMania?
NudgeMania is a program that allows you to send unlimited Nudges on Messenger.
NudgeMania works on all versions of Messenger that support the Nudge feature, these include:
MSN Messenger 7.0 and MSN 7.5
Windows Live Messenger 8.0 and 8.1
NudgeMania is currently available in the following languages: English, French, Spanish, Turkish and Portuguese. For more details, see the NudgeMania homepage.
How to use NudgeMania
You can start NudgeMania from: Start Menu > All Programs > NudgeMania 4.0 for Messenger > NudgeMania
Once NudgeMania is loaded, you can send a Nudge anytime you like by pressing the Nudge button in the conversation window. For best results, press it when your chat window isn't shaking, otherwise you may get the "You may not send a nudge that often" message instead of the usual "You have just sent a Nudge." message.

NudgeMania runs hidden in the background without any interaction. To access the NudgeMania window, just click the NudgeMania icon in the system notification area (the icon appears near the system clock, see picture above).
By default, NudgeMania will automatically start when you switch on your computer so that you can start sending unlimited nudges in MSN Messenger without having to open it. You can turn this off by un-ticking the checkbox in the main NudgeMania window.
I installed NudgeMania, but can't send unlimited Nudges
If you can't send unlimited Nudges after installing NudgeMania, check the following:
Make sure NudgeMania is running - You should see the Icon near the clock (see above)
Remember that you can only send a Nudge after your chat window stops shaking
Will I still have unlimited Nudges if I upgrade my Messenger version?
Yes, you will be able to send infinite/unlimited Nudges in MSN or Live Messenger as long as NudgeMania is installed. You don't need to do anything (like applying new Nudge Hacks or patches) after you update your Messenger.
NudgeMania Feedback
Got something to say about NudgeMania? You can send us all your comments, suggestions, feedback and bugs by using the feedback page.
---
NudgeMania help last updated on
Sunday the 11th of March, 2007 at 9:38:08 AM UTC
NudgeMania Online Help © Sherv.NET