The end of another year is here and it's time to welcome 2012! For this special occasion, you can grab a very special emoticon collection. Use these smileys to send your new year wishes to all your friends and family.





Get the free New Year smileys - Click Here!
These 2012 emoticons are really cool. You can also browse all of the animated smiley faces in the New Year section. There you can browse them one by one. We really hope you like them and enjoy using them during the holidays!
It's that special time of the year when people just can't stop talking and thinking about Turkeys... yes, Thanksgiving is upon us once again. It just wouldn't be the same without lots of Thanksgiving smileys, so check these out!





Get the free Thanksgiving smileys - Click Here!
Some of these are absolutely hilarious. You can also browse the animated smiley faces in the Thanksgiving gallery. There you can browse them one by one. We hope you check them out and enjoy using them.
MSN Emoticons: Halloween smileys! Lots of scary emoticons for download
Animated Emoticons: Valentine and Love Emoticons, Smileys and MSN Display Pics for Valentine's Day!
Just in time for Valentine's Day, here is a new theme pack containing lots of Love and Valentine MSN Emoticons, Smileys, Display Pictures and MSN Icons!
Animated Emoticons: Cartoon Emoticons, Cartoon MSN Icons & Emotions! Simpsons, Family Guy emoticons
Our collection of free Emoticons and Smileys just got bigger, with the addition of a brand new collection of Cartoon Emoticons. Many of these Cartoon Emotions and Icons are animated.






Pack contains 30+ cartoon emoticons
All of the Cartoon MSN Icons and Smileys install automatically to MSN and Live Messenger.
Animated Emoticons: New MSN Text and Word Emoticons, download MSN words and animated text emoticons
By popular demand, we've added a brand new set of Text and Word Emoticons for Messenger! These icons (preview below) are used to replace text and words in MSN Messenger chats with cool and fancy emoticons.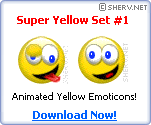 More free MSN Icons have been added to the site in the Animated Emoticons for MSN Messenger pages.
This Icon pack contains lots of Cute MSN Icons as well as Funny MSN Icons! You can install these free MSN Icons into MSN Messenger by downloading them below.
We have added a new section of Adult Emoticons where you can get rude emoticons for MSN Messenger! Just check out some these adult MSN emoticons and smileys from the Adult Emoticons section.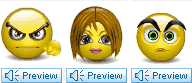 There are lots more high quality adult emoticons available for free download and use, click the link above to download them, More rude and adult smileys coming very shortly (including lots of the talking adult MSN emotions)!
Did you know that you can now use free talking smileys in MSN Messenger? These new smileys are animated and can talk as well, so expressing your emotions in MSN has never been any easier with sound from these talking smileys!
If you want to see what these new Free MSN Smileys look and sound like, just go to the Free Talking MSN Smileys page!
Also check out the sections of...
Talking Smileys
soon!
We have added a new set of Super Yellow Animations for MSN Messenger 7. This is the 4th pack of MSN Smileys in this series. Check out this animated preview of the smileys!


Click Here to Install these Free MSN Smileys!
Need even more Free and Animated MSN Smileys, Emoticons, Icons or Emotions? Then head over to our Free MSN Smileys page!
Get more free MSN Messenger downloads:
Lots more smileys coming up soon!