Animated Emoticons: MSN Icons: Funny and Cute MSN Icon in free downloads
Posted on Sunday, February 26 @ 02:51:46 UTC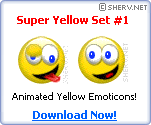 More free MSN Icons have been added to the site in the Animated Emoticons for MSN Messenger pages.
This Icon pack contains lots of Cute MSN Icons as well as Funny MSN Icons! You can install these free MSN Icons into MSN Messenger by downloading them below.
+ Download Super Yellow Icons for MSN
You can also find even more MSN Icons and other MSN Messenger downloads here at Sherv.NET!
More free icons and download for MSN Messenger coming very shortly!