Animated Emoticons: New Adult Emoticons Added: Rude & Adult Emoticons for MSN
Posted on Monday, January 16 @ 01:46:11 UTC
We have added a new section of Adult Emoticons where you can get rude emoticons for MSN Messenger! Just check out some these adult MSN emoticons and smileys from the Adult Emoticons section.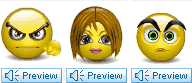 There are lots more high quality adult emoticons available for free download and use, click the link above to download them, More rude and adult smileys coming very shortly (including lots of the talking adult MSN emotions)!

Other than these rude adult msn emotions, we also have a large section of talking smileys available for MSN Messenger and other Chat systems like Yahoo Messenger and AIM.
Still looking for more RUDE emoticons? Then you can also visit this page of Rude Emoticons for even more rude smileys!