MSN Emoticons
Welcome to our MSN Emoticons section. Here you can find collections of the best Free MSN Emoticons available for MSN Messenger. Just download the emoticon sets you like and start using them in Messenger conversations with your friends!
Emoticons play a very important part in online conversations. They allow you to express yourself and your feelings in ways just not possible by using text! Start browsing the Emoticons!
Please note: There are many images on this page, it may take a few seconds longer to load.
Animated Emoticons
Here are some animated emoticons for MSN Messenger 7! Click to download.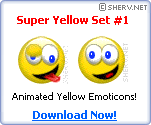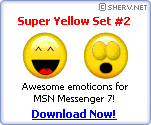 MSN Emoticon Set 12

A fantastic set of msn emoticons!



Best Of The Best Emoticons

A collection of the absolute best emoticons, from the Mnemic series.



War Emoticons

Emoticons all about guns and warfare!



Long Emoticons

Long emoticons for MSN Messenger, easy to use.



Love Emoticons

All the love emoticons you will ever need to use in MSN.



Cyclops Emoticons

Cyclops Emoticons: One-Eyed emoticons for MSN!



MSN Emoticon Pack 1

A cool and original emoticon set for MSN Messenger, by MNeMiC.



MSN Emoticon Pack 2

The second set of emoticons for MSN Messenger.



MSN Emoticon Set 5

The 5th emoticon set created by Mnemic.



MSN Emoticon Set 7

Another great set of MSN Messenger emoticons.



MSN Emoticon Set 8

The 8th installment in the Mnemic emoticon series.



MSN Emoticon Set 9

This is one of the best sets of emoticons by Mnemic.



Arms Emoticons

'Arms' that can be added to any emoticon, and other cool emtoicons!



Text Emoticons

Cool words and abbreviations that can be used in MSN!
Lots of Text MSN Emoticons and Words MSN Emotions as well as cool letters! Also see these word emoticons


More Emoticons
To get the latest info, visit our new emoticons section using the main navigation. We've put up our full collection of totally free smileys and emoticons here for your browsing.
Still looking for more emoticons to liven up your MSN Messenger? Check out the items below to get a lot more, cool emoticons!
Smiley Central
Smiley Central provides over 10,000 free animated emoticons for MSN Messenger! Click on the banner below to continue to their site and download their software.

Emoticon guides and tutorials
If you need help with using these emoticons, or need some general emoticon information, check out the MSN Emoticons Guide. If you need some help in adding and using the emoticons in MSN Messenger, check out the Guide to adding emoticons!

And if you're interested in creating your very own emoticons, check these Emoticon Tutorials for some info.