What Are MSN Emoticons?
This emoticon guide page is part of our archives and is no longer being updated. It was written specifically for MSN Messenger v6 (2003).
A Quick Guide To MSN Custom Emoticons
MSN Custom Emoticons (CE for short) are the latest craze in the world of MSN Messenger!
MSN Custom Emoticons are just like emoticons that come with MSN Messenger, except you can create and/or add your own! These custom made MSN emoticons can be used in conversations with other MSN 6 users to help express yourself and how you feel. Of course you don't have to create your own, you can download hundreds of free MSN emoticons in seconds!

As with most things in life, there are some general rules and limitations:
Custom Emoticons have to be 19 x 19 pixels
Animated Custom Emoticons are not allowed, if you add an animated Custom Emoticon, only the first frame will be visible
Custom Emoticons will not show in your nickname like the standard emoticons do
The shortcut for the Custom Emoticon has to be no more than 7 characters
Only the first 10 Custom Emoticons you added will show in the dropdown emoticon menu






You may only send 5 Custom Emoticons per message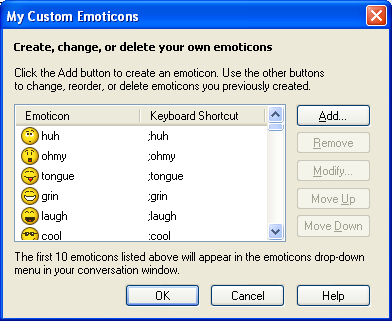 MSN Custom Emoticons are spreading like wildfire! Don't miss out and head over to the Custom MSN Emoticons section now and grab some MSN emoticons for yourself!

Visit the MSN Emoticons sections to download free Custom MSN Emoticons!

And if you're lazy to browse through all the MSN emoticon packs, here are 3 emoticon packs ready for quick downloading!