Adding Custom MSN Emoticons
Please note that this is an archived page that was originally composed for MSN Messenge version 6.0 in 2003, it is no longer being updated.
A quick guide to installing MSN Emoticons
Don't know how to add MSN Custom Emoticons? You'll know in 4 easy steps!
Open the 'My Custom Emoticons' dialog. You can do this by either clicking 'My Emoticons' from the dropdown emoticons menu or by going through the Tools menu.




Once this window is open, press 'Add'




You should now be prompted with a file select dialog. Use this to select the emoticon you wish to add.



Follow the instructions in the dialog window and fill in the details and then press 'OK'.


You will now be back at the 'My Custom Emoticons' window. Inspect and make sure everything is fine and press 'OK' to save all changes.
Adding MSN Emoticons: The quick and easy way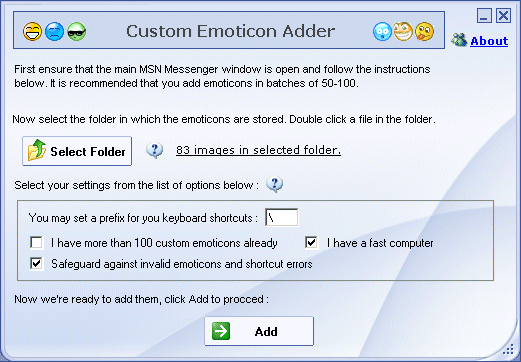 This is an MSN Messenger 6 utility that automatically adds MSN emoticons into MSN Messenger. This tool is a must have for most msn users that have a lot of MSN Emoticons, this tool makes adding MSN emoticons a breeze and is a great time saver. During testing. we were able to add 100 MSN Emoticons in 12.86 seconds!
And if you're lazy to browse through all the MSN emoticon packs, here are 3 emoticon packs ready for quick downloading!